Day Fourteen - The Really Big Falcon National Show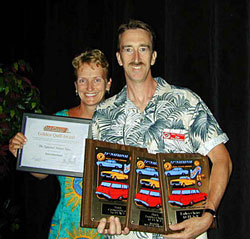 Jim wins three First Place Awards!
Stock '63 Convertibles - People's Choice Stock Category - Ladies Choice.
Wendy wins National Golden Quill Award for Falcon Club Newsletter.
What a thrill! I was hoping that my friends in the FCA would like the car, but this was beyond my wildest dreams. Of course, I can't thank everyone that helped me along the way, but a few deserve special mention: First, of course, is my wonderful wife Wendy - I really couldn't have done it without her support and encouragement. Thanks to Alex Gerritts, Richard and Jeanette for jumping to my aid on Wednesday - Is this a great club or what?! Thanks to Ron Wilson, Falcon Enterprises, for his generosity and hospitality in offering the use of his shop and tools to fix my broken bird. A big Thank You to Rick Dilks of Rick's Fabulous Ford Parts and the Mid-America Chapter, Danny Rosewell of Rosewell Falcon Parts and the Heart of Texas Chapter and all of the other vendors and experts that helped me with this car. - Jim Wilkerson, FCA #07420
| | | |
| --- | --- | --- |
| | | |
| The voting begins in earnest. | Falcon family assessing the cars | David and Karen, Margueritaville, CA |
| | | |
| Larry, Althea and Elijah Fleeman | Over 450 people at the Awards Banquet | Butch worked hard, he's tired. |
| | | |
| Ronnie with his latest treasure. | Father O'Brien blessed us and the Falcons | The gang relaxes after the banquet. |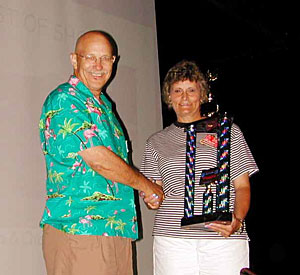 John Kosche wins Best of Show for his amazing Club Wagon! See Day 12.
Back to Day 14
Back to The Trip Day by Day
Back to Main Page