Day Twenty-One - Stilwell, Kansas
RE-ENTRY
It's always good to be home.
NOTE: This page uploaded a day late due to phones not working at home! Thanks to Jan, we're back in business.
| | |
| --- | --- |
| | |
| Percy drinks from the pond. | Narcissus feels more relaxed at home. |
| | |
| Thanks to Shirley and Rita, the garden looks great! | JIm relaxes on the patio. |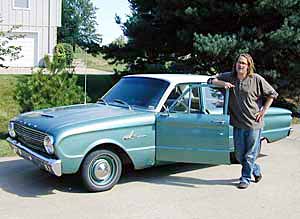 The day we got back, we sold Wendy's Falcon to Jay, a Warner Brothers recording artist of Wilco, who saw the ad in The Falcon National News. He drove it to Chicago, so wave if you see him on the road. Jim is working on the 1962 sedan now so it will be up and running soon. See What We're Leaving.
---
We had an incredible vacation. We saw and did many interesting things; we loved being together for 3 weeks; and we enjoyed visiting with all our Falcon and other friends along the way. The National Convention was superbly organized and executed by The River City Chapter and The Sonoma County Falcons for Fun. Rosie Wilson, Al & Lois Aiello, Steve & Emily Dolar, Ray Johnson, Chester, Butch, Donna and all the others did a fabulous job and deserve great thanks and appreciation. I can't remember everybody's name but I know they were exceptional and made this a most enjoyable time.
Our trip was so much fun even before we got to Nationals, we didn't think it could get any better. We were wrong. The hotel was nice, with helpful staff, the show was the biggest ever (225 Falcons attended) and well organized, the banquet was excellent and attended by over 450, and the Old Town Cruise was lots of fun. The Falcon Club of America is very fortunate to have so many good people working hard for the benefit of the club. When Jim's car was crippled the day of arrival at the convention site, several people immediately jumped to his aid and helped get it fixed - that day! Special thanks to Ron Wilson for use of his shop and expertise, Alex Gerrits, Richard and Jeanette for the hands-on wrenching. Bob Passino, Robert Marquardt and Paul Garrigan helped diagnose the problem. We certainly were lucky that it happened when it did and we had no trouble the whole way home. The Falcon ran like a champ, as it should after winning three awards the first time out! We were thrilled and surprised. I am so happy for Jim because I know how hard he worked on that car. It was his first restoration, and he had many obstacles to overcome. Many late hours, frustrations and successes. I always knew the project would be completed and reliable, I just didn't realize how beautiful the car would be. I am really proud of him. (Can you tell?)
We also owe great thanks to all our neighbors and friends who "held down the fort" while we were gone. Shirley takes better care of my garden than I do. Rita is always willing to lend a helping hand. Mike mowed the lawn and more, Scheri and Marjorie cut flowers to keep them blooming. We are so lucky, friends are such a blessing.
We received great response to the daily website, it was a fun thing to do and very rewarding to share our trip with others. I am including a small sampling of the emails we received along the way, which were very encouraging in keeping the project going. We will leave it up for awhile so Americruisers can see it and so you can tell other Falcon friends to check it out. Hope you enjoyed the ride - we certainly did!
---
Subj: Re: Too much fun!
Sounds like you guys had a great time and I'm glad you made it home safe. Jim, you did a fantastic job on your Convertible and kicked butt at the National, deservingly so. Wendy, you are doing a great job with the newsletter and deserve all the thanks and praise that you get. Both of you deserve the awards that you won and I just want to say, CONGRATULATIONS. We are proud of both of you and proud to have you as members of The Heart of Texas Chapter, FCA. See you soon.
Danny and Linda Rosewell
---
You have done a fabulous job on your trip and adventure to Sacramento! It is clear that you love not only your husband, but life itself. I really enjoyed the trip so far and wish we could be there. Have a great time (I know you are) and keep the pictures coming.
Hal Cogburn
---
Wow, we're so proud of you!!!! WE'RE JUST HAPPY TO KNOW YOU!! You certainly deserve it for all the dedicated labor you put in to that car!! So far of all I've seen on the web, I think yours is the prettiest. Take care and CONGRATULATIONS!! I must admit, I got tears when I read the great news.
Drive careful,
Rita Sanders
---
CONGRATULATIONS ON YOUR CAR WINNINGS.
Chuck Porter
---
Congratulations Jim and Wendy on all of your awards. I have loved going on vacation with you via your web site! Wendy, your pictures are awesome. The
cars are really cool. What is your next project Jim?
Andrea Wichman



---
Way to go Jim! Good thing your car has a V-8 in it because you'll need that horespower to haul back all that heavy trophy hardware. I think the kitchen would be the best place to display it all, don't you? Pat agrees. Sweet victory.
Chris Kuchem
---
We are still following your postings. It's even more fun now that we have met you and Jim. We can't wait to see where you all wind up next. Crista was
extremely happy with all the awards Jim won. She is partial to "round bodies".
Curt and Crista Smith
---
What a great site and an even better idea to come up with.
Congratulations, you definitely deserve it, especially after reading all about you guys and the history of the car. I am showing everybody your site. It sure was nice meeting you guys, hope I have the pleasure again sometime.
John Katz
---
I was following your trip to the Nationals. It looks like you had a great time. I wish we could have been there. Congratulations to your husband on his awards. The car must be as nice as the pictures. I checked out his restoration project. I saw he had a car rotisserie to work on his car. I used one to work on the "Ratmobile". It is the only way to get the job done. It makes it so much easier.
Bruce Wolfe
---
Subj: Thanks for the tour
You guys are legends! My name is Bevan from Sydney, Australia, I have been following your tour and think it has been great. My family and I should have been at the convention this year but my redundancy from work fell through so my dreams were shattered. You have brought part of that dream back through the wonders of cyber space. Our plans were to buy a Falcon when we got to the States and attend the convention and then join up with the Americruise. So you can imagine my surprise when I opened day 15 & 16 of your tour. I would like to thank you for bringing my dream alive, I know its not the same as the real thing but its the next best thing. Who knows? Next year I may get to see the real thing. Congratulations on your trophies.

Bevan Bradley, President Early Falcon Club of NSW
---
Jim and Wendy- We've enjoyed monitoring your trip and especially being able to meet both of you in Sacramento.
John Margolin & Joanee Quirk
---
Ultimately cool. Finally got time to get back in to look at everything on the site. This is really great. Fantastic job and Congratulations on your awards, JIm.
Charlie Bowers
---
This is Wendy again. As we wrap up our very special and charmed vacation, we are very thankful for the opportunity to take this trip and to meet so many old and new wonderful friends. We feel truly blessed in our life together and thank everybody again for your encouragement, support and good wishes.

Follow The Trip - Day by Day
What We're Leaving
About Us
The Sprint Convertible
Back to Main Page